Shipping Tips
Place your film and photos in a container
Use groups of 50 or more for slides, prints, or negatives
Use a sturdy box that won't crush easily
Wrap your photos and film in plastic
Avoid using packing materials that generate dust or debris
Don't write on the back of your photos with magic marker, ink, or crayon
Don't package a photo to look like the packing materials
Place your film and photos in a container
Then place them in the box you are going to ship them in.
If you have groups, make sure that they are secure and will not shift if the box is shaken en route. You can order archival storage boxes ahead of time to pack your order in, or you can use one of the creative temporary solutions show in the column on the right.
If you do pack your film and photos into one of these temporary solutions, we recommend that you also think about purchasing archival storage to place your photos and film in as they are being scanned. That way, your film and photos return to you protected and ready to store.
Use a sturdy box that won't crush easily
Your local post office provides priority mail cardboard boxes free of charge and they work very well. FedEx also provides boxes free of charge at any local Kinko's or FedEx shipping retailer.
Wrap your photos and film in plastic
A Ziploc® bag or a plastic garbage bag will help protect them against moisture and dust.
Also, Please Avoid Doing the Following:
Avoid using packing materials that generate dust or debris
Some padded envelopes use crushed newspaper and if they tear that dust may get on your photos and film.
Don't write on the back of your photos with magic marker, ink, or crayon
It will transfer to the front of the photo behind it when you stack them.
Don't package a photo to look like the packing materials
Make it easy for us to know what is important and what is discardable when we open your package. Sometimes we find a single oversized print sandwiched between two sheets of cardboard then all of the extra cardboard is used as packing material. It would be easy to overlook. If something isn't obvious, please make it obvious with a marker or a note that we'll see when opening the package.
Slides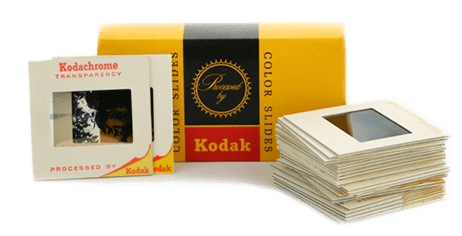 Send your slides and photos as they are, in boxes or carousels, or you can use some of these ideas.
Believe it or not, aluminum foil type boxes make great temporary slide containers. You can also make the beginnings of slide groupings (50+ slides) by using mini post-its to label where they start. Make sure not to touch the sticky part of the post-it to the film.
If the slides do not fill up the entire box, cut a piece of cardboard into the size of a slide and put it after the last slide to protect the film. Then, wad up tissue paper or plastic bags to fill the space to the end of the box.
Rubber band the outside of the box well, so the slides cannot fall out or become mixed up if the box is turned over in shipping.
Negatives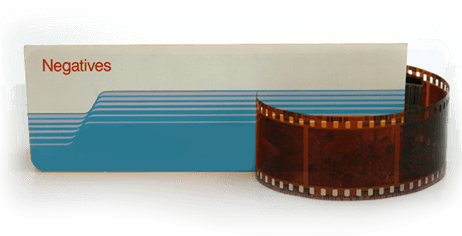 Negatives are a little easier to package because they usually come in processing sleeves, which you can fold, stack together and put into a sealable plastic bag. Make sure to let all of the air out of the plastic bag before sealing. You can then write the name of the groups of 50+ or complete roll of film on the front of the bag. Do the same with loose negatives. Put the bags into a padded envelope before putting them into the box to be shipped in.
Prints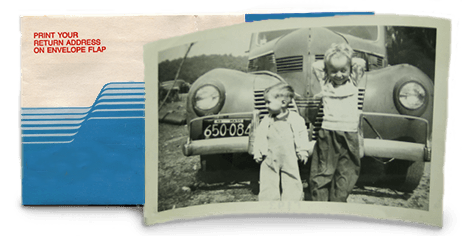 For prints up to 5x7" sealable plastic bags work well. For larger prints cut 2 pieces of cardboard to place on either side the prints, then place inside a large manila envelope. Put all of your wrapped and sealed prints into a box making sure there is a couple inches of padding between the sides of the prints and the exterior of the shipping box (bubble wrap works well for this purpose).
Movie Reels & Tapes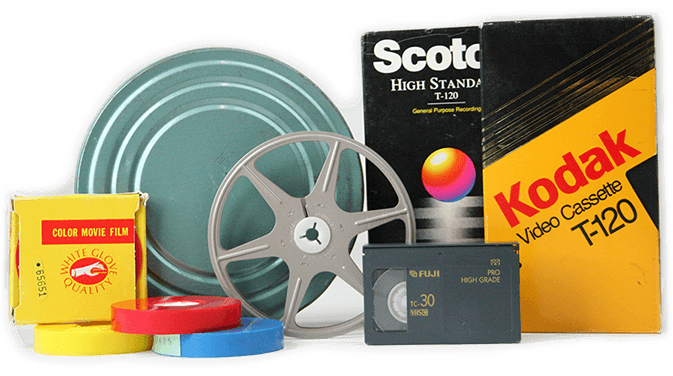 Reels and tapes are a little sturdier by nature. Just make sure they are secured in a padded box to keep from shifting during transit to a minimum.
Check Out the digmypics memoryBox
The All Inclusive Digitizing Kit
Crush Proof Safe Shipping Box
Return Shipping Label
Preservation Quality Digitization
Color Correction
Dust and Scratch Removal