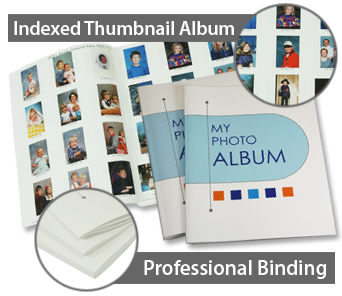 Keep your pictures organized with our printed thumbnail albums. Browse through your pictures and find them in your digital library using the corresponding folder and files names.
Our thumbnail albums come in three options:
4 Images Per Page - 8¢ per image
12 Images Per Page - 6¢ per image
30 Images Per Page - 5¢ per image
Our softbound thumbnail album books are 8.5x11" and you have your choice of 30, 12 or 4 photos per page.
The photos in a 4 per page book are 4"x4", in a 12 per page album measure approximately 2"x2", and are 1"x1.5" in a 30 per page book.
The size of each thumbnail may vary slightly depending on the size of the original image and its aspect ratio. For instance, a 35mm landscape photo will be 4 inches wide and 2.75 inches tall in the 4x4 book.
The maximum number of pages per thumbnail book is 200 for a total of 400 front/back.